What's New for the 2021 Jeep Lineup?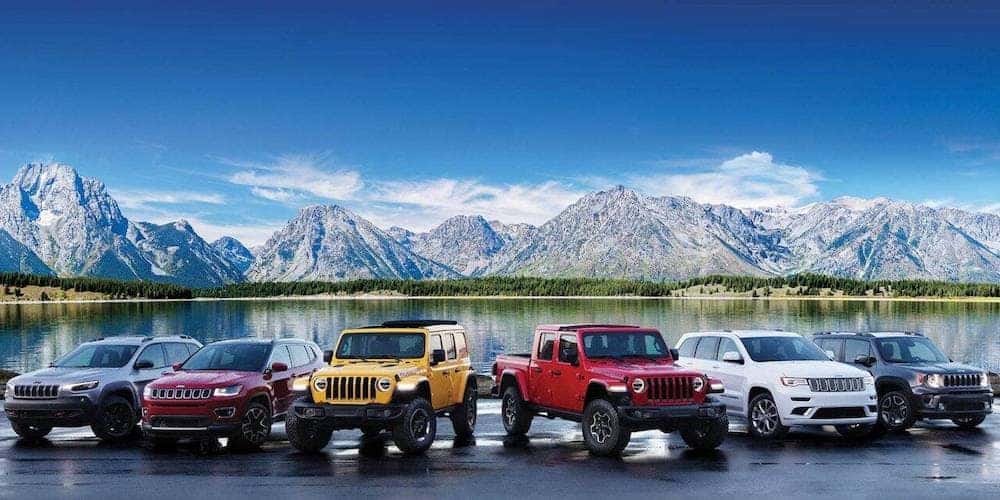 Jeep lovers everywhere are buzzing about what's new for the 2021 Jeep lineup. Year after year, Jeep has consistently delivered exceptional vehicles to the eagerly-awaiting public. 2021 is no different, with Jeep reviving model favorites and giving serious makeovers to its current models. Uniontown area Jeep enthusiasts can trust our Chrysler Dodge Jeep RAM dealership to provide them with the latest news on the 2021 Jeep lineup. Allow us to tell you more about what's in store.
What to Expect from the 2021 Jeep Lineup
2021 Jeep Wagoneer and 2021 Jeep Grand Wagoneer
What began as the juiciest rumor in Jeep land has been officially confirmed: the Wagoneer and Grand Wagoneer are coming. Drivers who have been searching for a practical people-mover will get their wish when the Wagoneers hit the market. The Jeep Wagoneer and Grand Wagoneer promise to be the three-row beasts that turn the large SUV market on its head.
Production on these highly-anticipated models won't begin until 2021, so we expect to see the Wagoneer duo on the showroom floor mid-2021.
2021 Jeep Grand Cherokee
That's right! The worshipped Jeep Grand Cherokee is getting a serious redesign for the first time since 2010. This is no rumor – and there are spy shots to prove it. While we can't discern much due to Jeep's expert camouflaging, we can tell that the new Jeep Grand Cherokee will be something special.
It's clear that the 2021 Jeep Grand Cherokee will feature a longer wheelbase and a longer rear overhang, increasing passenger space and maximizing cargo space at the back. Inside, it's rumored that this iconic SUV will offer a few plush features, improved tech, and a number of advanced driver-assist features.
2021 Hybrid Jeep Wrangler
2021 will bring plenty of interesting new Jeeps to the automotive industry. The new Jeep lineup will feature a hybrid Wrangler, known as the Wrangler 4Xe. It's rumored to share similar technology as the Chrysler Pacifica Hybrid, which offers 33 miles of electric range on a single charge. This model is perfect for drivers looking to green-ify their drives.
Keep an Eye Out for 2021 Jeep Models at our Uniontown Area Dealership
When the new year arrives, so will plenty of new and refreshing Jeep models. If you're interested in any models in the 2021 Jeep lineup, be sure to keep an eye on our inventory. If you have any questions, please don't hesitate to contact us at our Uniontown area Chrysler Dodge Jeep RAM dealership today.